We are excited to announce that in partnership with Arena Animation (India's biggest animation training brand), the 2018 edition of MediaCamp will take place in India!
Date: November 17 – December 2, 2018.
Cost: USD 3,000 (covers flights, shared accommodation, training fees, visa,  feeding and a wildlife photography stopover in Nairobi, Kenya. Please see more details in the corresponding tab below).
Theme: This year, the focus of MediaCamp will be 3D Animation using Maya. Arena Animation will be hosting intensive classes on that subject.
Extras: There will be a field trip to a post-production studio in India.
Questions?: Please check the tabs below for more information. You can also call 09033279205, WhatsApp (+234)8103484322, email info@twiminstitute.com or visit The Twim Art Institute, behind Jericho Mall, Onireke Link Reservation Road, Ibadan, Oyo State, Nigeria.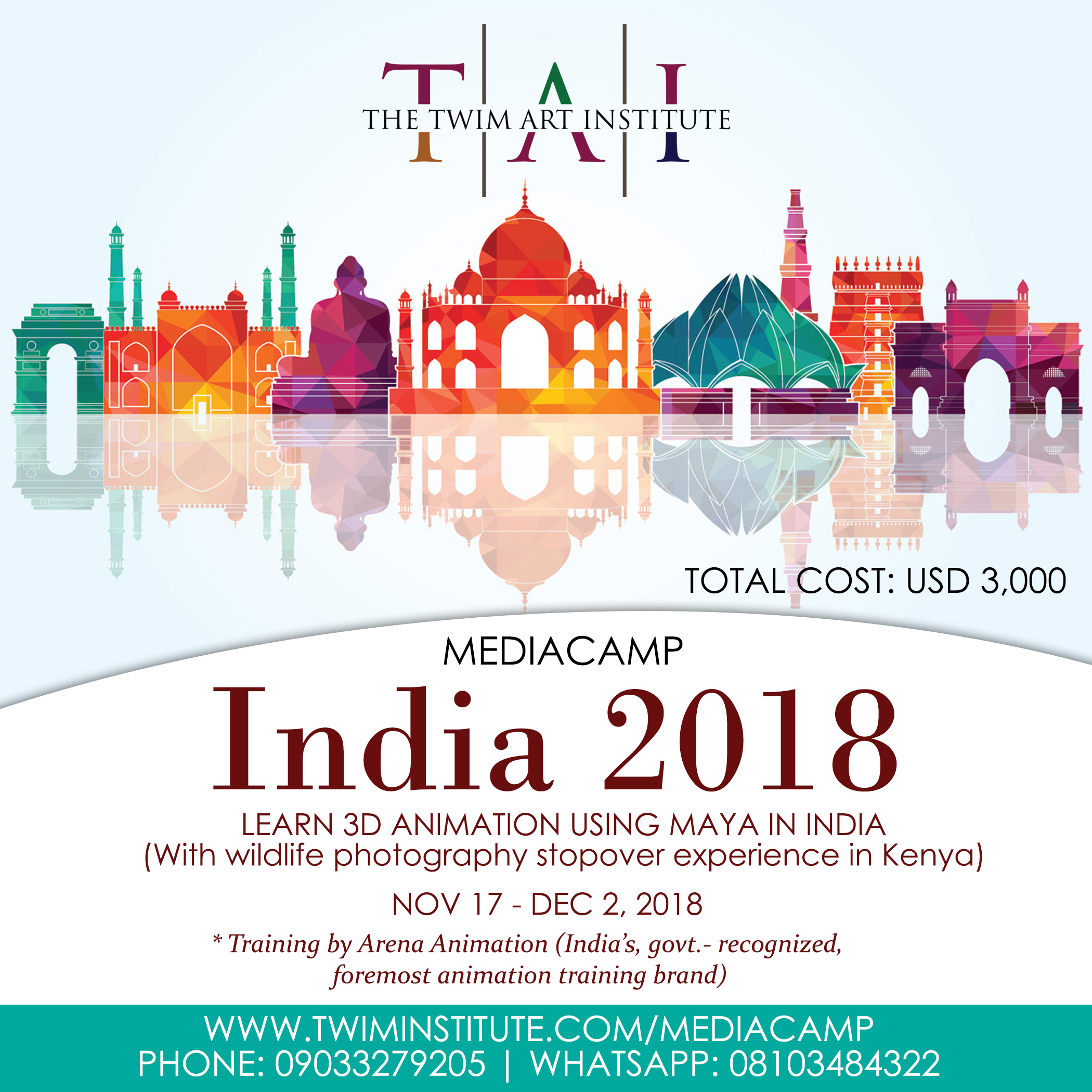 What is MediaCamp?
Every year at the international-award winning Twim Art Institute (formerly Twim Academy), we host MediaCamp. It's a fast-track bootcamp training series on a topic in one of our focal areas; media arts, creative arts, performing arts and fashion. Starting in 2014, we've held 4 editions as follows:
MediaCamp Ibadan, 2014: Video Production
MediaCamp Ghana, 2015: Filmmaking
MediaCamp Ghana 2016: Multimedia Storytelling and Entrepreneurship
MediaCamp Ghana 2017: Multimedia Storytelling
We have recorded remarkable success with our past MediaCamps and have had people attending from different parts of Nigeria. We held 3 international editions in Ghana and are set to hold it in India then Kenya.
Why India
India is the home of Bollywood- the second largest film industry in the world. It has also indisputably earned a spot on the global map for animation and other aspects of post-production worldwide. A good number of popular Hollywood movies and animations are post produced in India.
MediaCamp 2018 provides the opportunity for participants to learn 3D animation using Maya from the top animation school in India. Beyond this,  MediaCamp will expose participants to life in India and a rare opportunity for wildlife photography in one of the top wildlife photography destinations in the world- Kenya!
We should add that The Founder and Rector of The Twim Art Institute, Olumide Adeleye, learnt filmmaking in India.
Organizers and Facilitators
MediaCamp is one of the programs of The Twim Art Institute. The Twim Art Institute is located in Ibadan, Nigeria and has extensive presence in Oyo State. It is one of the most trusted vocational education brands in the state. Please feel free to visit our campus anytime you wish.
For 2018, MediaCamp is held in partnership with Arena Animation, India. Arena Animation is the biggest animation training brand in India and is owned by the popular Aptech Education Group which has presence in many countries of the world. Arena Animation is also well recognized by the government of India.
Training in India will be delivered by Arena Animation in Bangalore.
What to Expect
Training in 3D animation using Maya
Experience of the Indian post-production industry
Shared student accommodation
Experience of the sights and sounds of India
2-day stay in Kenya and experience of wildlife photography at a national park in Nairobi, Kenya.
Certificates from both the Twim Art Institute and Arena Animation
Fees and Payment Structure
MediaCamp 2018 costs 3,000 USD (you can pay Naira equivalent at time of payment) and covers the following:
Training fees
Visa
Transportation: Air travel to and from Nigeria, and local travel in India.
Stopover in Kenya including fees for accommodation, Kenya visa and park entrance fees for the wildlife photography expedition.
Costs of basic but decent shared student accommodation
Meals (we recommend coming along with extra money for food as different people have different food requirements and we can only make general arrangements for this).
Please note that the airport in Nigeria is the meeting point for MediaCamp as well as the departure point on arrival. Participants are expected to make all other arrangements as may be required by them.
To ease the payment process, we have created a system that allows participants to pay in 3 installments as follows:
30% on registration, 40% by the end of September, remaining 30% by the end of October.
The deadline for registration is September 5, 2018.
REQUIREMENTS
 A valid international passport  (should be valid till April 2019)
Yellow card certificate (this can easily be obtained at the Ministry of Health / Port Health in your state for N1,000.
Computer literacy
OTHER REQUIREMENTS
 A valid international passport  (should be valid till April 2019)
Yellow card certificate (this can easily be obtained at the Ministry of Health / Port Health in your state for N2,000.
Computer literacy
We recommend coming along with a laptop for personal practice (although Arena Animation provides computer facilities for training)
We also recommend coming along with a DSLR camera to take advantage of the wildlife photography stopover in Kenya.
Register
Please note that your registration is only complete after the first tranche of payments is made.
To register for MediaCamp, please complete the form below: